Design and manufacture of agricultural and industrial equipment
Faced with the evolution of cultivation techniques used throughout the world, our company is constantly seeking innovation. The machines that we develop will allow you, among other things, to achieve productivity gains while improving your working conditions and respecting the environment. Our primary goal is to enable you to improve your working conditions. To do this, we work on the efficiency of the equipment designed in our design office.
Pre-treatment station for agricultural plastic film :
The processing of used agricultural plastic films is very time-consuming, as it involves transport and additional costs for the waste they contain. An efficient and environmentally friendly solution is to process these plastic films as close as possible to the sites where they are collected. To do this, the mobile pre-treatment station cuts, cleans, dries and bales the used plastic on site, leaving the sludge and waste on site. This means that there are no problems with transporting the soiled plastic from one point to another and returning the sludge and waste to another point, with less impact on the environment and considerable time savings.
Growth retardant Seed Maize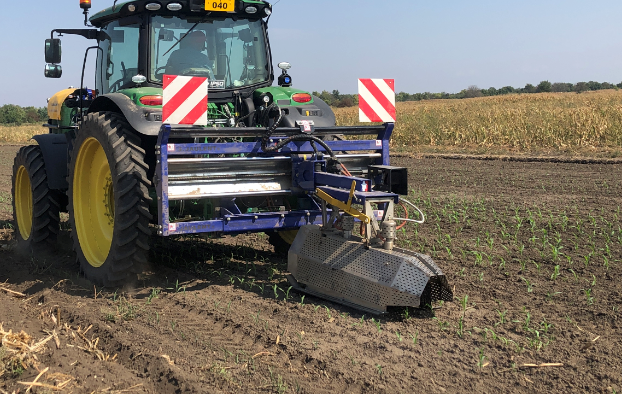 The JAULENT solution allows you to free yourself from climatology by sowing male and female maize at the same time and to increase productivity by 15 to 20%. This new technology, developed by JAULENT INDUSTRIE, allows to delay the growth of male maize plants in continuous or discontinuous mode.
The mechanization of the installation and removal of drip tape :
Drip irrigation is increasingly used because water is scarce and expensive. This process allows to save 50% of water.
This is why JAULENT INDUSTRIE has been developing a whole range of equipment for the installation and removal of drip lines since the 1980s.
Mechanisation of pineapple cultivation :
Mechanising pineapple cultivation means improving production over the time of planting, harvesting, sorting and recovery of used agricultural plastic films. Indeed, the pineapples are picked up by the machine which takes them to the operators who will sort them. All this while the plastic film is being removed. Planters are used to place the shoots at regular intervals
The cultivation of Sea Buckthorn :
Harvesting sea buckthorn berries is difficult and rather slow due to the presence of thorns between the berries on the branches. A semi-industrial solution can be envisaged to recover them. When harvesting, the branches with berries are cut off and frozen. After this step, they are put into the berry peeler and all the berries fall off the branch very quickly and effortlessly. By gravity, they fall into a container