Design and manufacture of agricultural and industrial equipment
Growth retardant Seed Maize 1 Row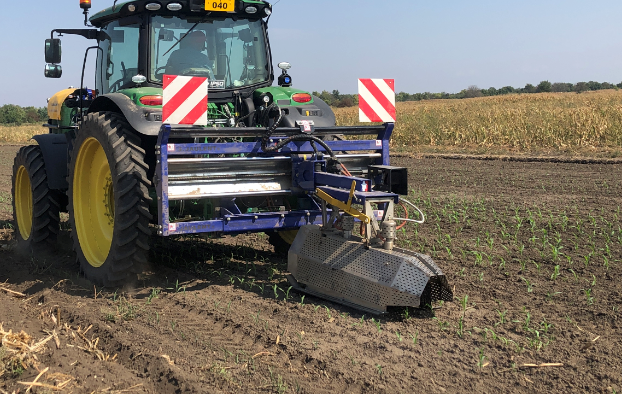 Patent, trademark and model registered G. JAULENT.
Advantage of the technique:
Optimisation of pollination costs
No need to worry about weather conditions
Sow male and female at the same time
Increase of pollination time in the calendar
Result 20% more productivity
Optimisation of production and pollination costs
FIVE YEARS OF VALIDATED EXPERIMENTS
GENERAL :
The heat diffuser :
The BIOMEGA heat diffuser works with propane gas in the gas phase.
The treatment is carried out in complete safety thanks to its electronic control.
The BIOMEGA diffuser offers a multitude of applications thanks to :
Its performance
Its innovative design
Its installation kinematics
Its perforated bell
Its principle is based on the optimisation of the air/gas mixture offering an efficiency of 100%. It is the result of a study of the circulation of fuel and oxidant. It uses the optimisation of this simple physical phenomenon linked to the management and automation of the ignition and safety devices by electronics. Its very high quality manufacture combining steel, refractory stainless steel and aluminium gives it a long life and reliability.
It is protected by 4 patents, one of which is international.
Material design :
Category 2 3-point linkage
Hydraulic supply from tractor valves
Hydraulic arm extension from tractor spool valves
1600 mm long treatment
Horizontally foldable to road gauge from tractor valve
Diode protected circuit polarity – Electrode ignition – Temperature display
Ignition and automatic control by box in the tractor cab
Performance table

Quantity of gas carried

600 Kg

Fuel

Propane in gas phase

Treatment length

1600 mm

The speed of progress according to the efficiency sought

5 Km/h to 10 Km/h

Pressure

Between 0.8 and 1.5 bar

Power

200 kw per tunnel